Deutzia - Why so Underestimated?
Gordon Link, from The Gobbett Nursery, describes the best selections of this beautiful, but often overlooked, genus. - 01 July 2022
Deutzia is a fairly large genus of shrubs with around 60 species native to China and Asia. These are mainly deciduous cultivars plus numerous hybrids and there is a Deutzia suitable for every garden.
Now I must admit I like Deutzia: they may not be the most fashionable plants, but I think they are very underestimated. They are very undemanding and not bothered by pest & diseases,. Some of the dwarf varieties are no more than 60cm (2ft), whilst others forms could reach 3 metres if not pruned. They are very tolerant of most soils except waterlogged, and they are equally happy in full sun or part shade. A couple in the garden here at The Gobbett are in full shade under old fruit trees.
On the nursery here the first to flower, starting about the end of April is Deutzia gracilis, a fairly small bush with striking pure white flowers which should be in every garden. We also grow the form D. gracilis 'Nikko' which is even more compact, reaching no more than 2ft. A fairly new variety, 'Yuki Snowflake', is another early flowerer in the garden, here again a compact plant.
If you like a bit more colour one I wouldn't be without is Deutzia x elegantissima 'Rosalind' with carmine pink flowers getting to about 1.2m. As I look out of the sitting room window this one is looking stunning in part shade, and has been in flower for at least three weeks now.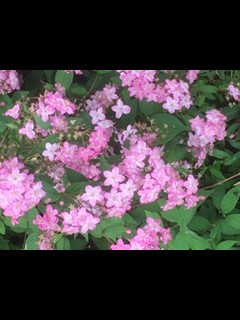 Deutzia x elegantissima 'Rosalind'
A small, fairly rare but still compact plant is Deutzia hookeriana, very exquisite with white sugar pink flowers which certainly turns a few heads when in flower.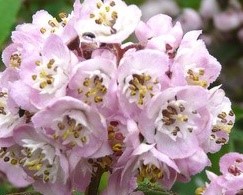 Deutzia hookeriana
Another fairly new, but very eyecatching, one is Deutzia 'Dark Eyes' with white flowers with a dark purple centre, which looks fantastic in June. With a similar habit, Deutzia compacta 'Lavender Time' has, as the name suggests, star-like lavender flowers in early summer, growing to about one metre.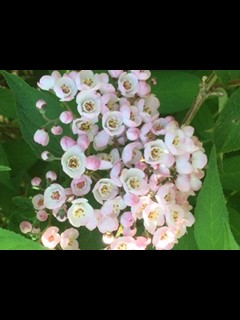 Deutzia compacta 'Lavender Time'
Fairly new to me is Deutzia calycosa 'Dali', a rare medium-sized shrub named by Roy Lancaster with large pink tinged white flowers in late spring/early summer. It's a real beauty.
Deutzia calycosa 'Dali'
As one of the best summer-flowering shrubs and one I wouldn't be without is Deutzia setchuenensis 'Corymbiflora'. This is a slow growing shrub to about 2m, with an abundance of small. pure white blooms for several weeks in the summer, a particularly attractive plant and one that should be in every garden. Similar, but a bit faster growing, is Deutzia 'Nymans'.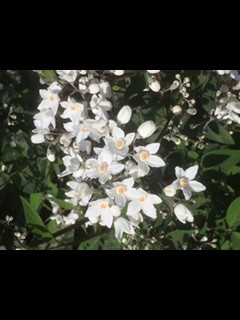 Deutzia setchuenensis 'Corymbiflora'
Another eye catcher is Deutzia x hybrida 'Strawberry Fields', with generous clusters of bright pink flowers with a white centre and growing to about 2 – 2.5 m if not pruned. Deutzia scabra 'Candidissima' (the fuzzy Deutzia!) is a tall erect shrub producing honey-scented, double white flowers in June and July. Deutzia scabra 'Pride of Rochester' is similar, being quite vigorous  and getting to 3m in height.
Pruning of any of the above should be carried out straight after flowering. Propagation is fairly straightforward by semi ripe cuttings taken in the summer.
Gordon and Christine Link own The Gobbet Nursery, based near Kidderminster in Worcestershire. They specialise in shrubs, especially Cornus and Syringa, and in Dierama and Pacific Coast Irises.
Website: www.thegobbettnursery.co.uk