40 Years at The Cottage Herbery
Kim Hurst, from The Cottage Herbery, looks back on 40 years of collecting and growing herbs and edibles. - 08 May 2016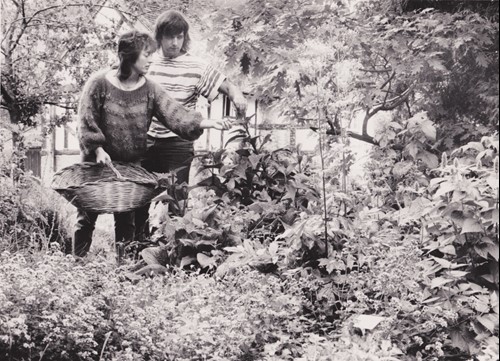 Here at The Cottage Herbery we celebrate 40 years as a small specialist Herb nursery in June of this year. It all began with purchasing one curly parsley and a gift of the paperback 'Herbs & Spices' by Rosemary Hemphill.
Getting ready to celebrate this milestone event, one or two publications have ask for a few words on our personal journey from that hot summer of 1976 to what we hope will be at least a dry June in 2016, but for these musings we think its time for the plants' story because, after all, we couldn't have done it without them!
Back in '76 we started with what was available to grow; the usual parsley, sage, rosemary and thyme, together with a few roots of Rob's grandmothers mint which turned out to be a rather good flavoured Mentha spicata (Spearmint). We potted up about 20 pots of each, took a borrowed orange & blue tent, Kim's parents' wall papering table, a hand made sign saying The Herbery and booked a small pitch at the local show……..people liked our plants, we sold all but two, and we were hooked. As they say, the rest is history.
Reading up on the uses of herbs we became intrigued, and the need to find more plants became a challenge. Luckily we had the renowned Stoke Lacy Herb garden nearby, owned by Madge Hooper who incidentally turned 101 back in February (must be all that Lemon Balm tea!). She opened on Saturdays, and you could turn up, choose a plant, which would then be dug up, wrapped in wet newspaper with verbal instructions of how to grow & use your purchase.
One such herb was Comfrey (Symphytum officinale) and this would be the start of our own personal collection of this robust genus, members of the Boraginaceae family. Luckily at the time, we had the room for them all to spread, a 2 acre, moisture-rich garden, with half laid down to a naturalistic planting scheme, offering a perfect habitat for this group. We had our favourites, including Soft White Comfrey S. orientale with its sturdy, compact, upright habit, and bunches of creamy white pendular flowers & bright green foliage. It is smaller in statue and is a self-seeding species, particularly useful in dappled shade.
Next came the eye catching S. caucasicum 'Norwich Sky', with grey-green leaves and the bluest blue flowers that put in an early spring appearance. It is quick to establish but is a fast grower and prolific self-seeder so can be too vigorous for a small garden. However a big plus is that it is especially coveted by hungry bees.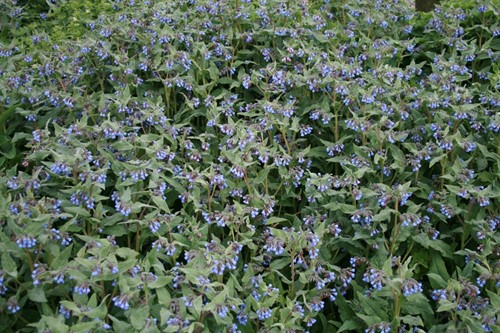 Symphytum caucasicum 'Norwich Sky' in all it's glory
One that we endeavoured to cultivate and propagate but eventually surrendered to its unpredictable variegation was S. x uplandicum 'Mereworth'  ,which with us it had a habit of reverting. Perhaps what could be called the most delicate of the genus was the lemon, yellow in bud, S. tuberosum, which in one particular season was subjected to an attack by the 'Ninja' voles that lurk in and around the nursery they moved in one night dug up & munched through the growing tubers of half the sales stock! 
Of the aromatic families we've had the pleasure of growing the Artemisias probably have the most extensive range when it comes to scent. Our first was A. abrotanum (Southernwood/Lad's Love/Old Man) with its highly aromatic sweet balsam, woody scented grey-green delicate feathery leaves. Later we would acquire A. abrotanum camphorate, even finer leaved with an intense camphor 'top note'. So began the hunt for all things Artemisia……A. pontica (Old Warrior) &  A. ludoviciana (White Sage) with the cultivars 'Valerie Finnis' & 'Silver Queen'. All are of a herbaceous nature and are great support acts in the border, their silver foliage complimenting darker foliage plants so well.
Artemisia ludoviciana 'Valerie Finnis'
Although not showy or particularly border worthy, the one Artemisia we rely on the most business-wise is A. dracunculus (French Tarragon) and way back in 1976 this was a difficult to source plant; constantly Russian A. dracunculoides would be offered as it was the much easier of the two to propagate. Such interesting members of the family Asteraceae, the daisy.
Probably the family of which we grew the most, at one time numbering 60 plus (although there are 150 plus mentioned in the Plant Finder), are the Menthas (Mint). We've got over this now, whittling it down to about 20 that remain firm favourites. Choices had to be made as to whether the aroma and flavour actually corresponded with the given name, and also that the mints in question made palatable accompaniments to certain food.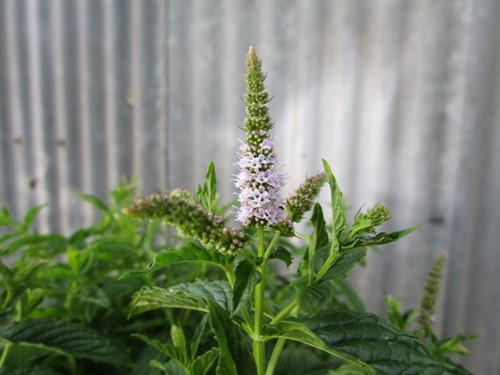 Mentha spicata, Spearmint; this is our original strain from Rob's Grandmothers garden.
Those mints that top the list for us are Mentha spicata var. crispa 'Moroccan'  (Moroccan Mint), closely followed by Mentha spicata 'Tashkent'. They are similar but different, the latter being taller with rounder leaves & darker stems while the former we find sweeter; both are vigorous. One that reminds us daily how vigorous a mint can be is Mentha suaveolens 'Variegata' (Pineapple Mint) with its oval cream/green leaves. It has embedded itself in the crack that separates the polythene from the permeable membrane in a 40ft long tunnel! Useful though, for cutting bunches. Three that we find less vigorous  and all producing aromas that match their given titles are Lime, Lavender and Lemon mints and more recently joining the clan, Strawberry Mint, with a real fresh strawberry scent. It was an exciting day when three small plants turned up in the post from Chris Seagon at Laurel Farm Herbs; opening that box the scent of strawberries conjured up a Devon cream tea.
Many other genus have been collected over the years, including edible Alliums, Angelicas, Rosmarinus, Salvia, Tanacetums and there will always be temptations to add just another one to the collections; that's the nature of the plant world we live in!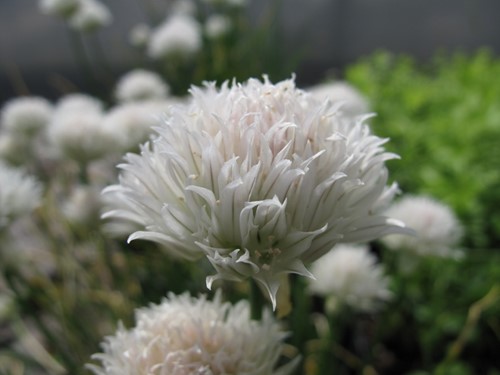 Allium schoenoprasum 'Silver Chimes'; the diminutive pure white form
So what of the future? Well, the next generation has joined us as daughter India has become a Wedding Florist & Flower Farmer needing bunches of tall Dill, Cardoon flowers and Miss Jessops Upright, so clearly there will always be a use for them old herbs.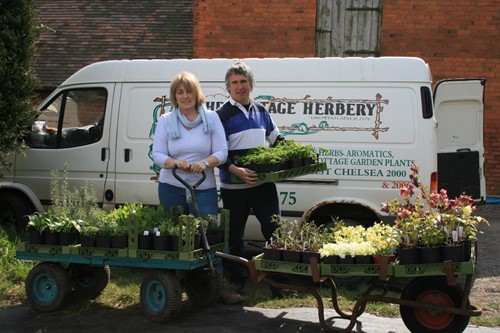 Kim & Rob on the Nursery at Field Farm
Kim, Rob & India Hurst will be hosting a special 40th Anniversary Open weekend on 18th & 19th June, from 11 to 4pm each day. Free entry; details on the website:- www.thecottageherbery.co.uk