Hardy Garden Chrysanthemum
Louise Mitchell, from Mrs. Mitchell's Kitchen and Garden, chooses her favourite hardy garden Chrysanthemums, reliable and robust performers for late season colour - 01 July 2021
Nothing is more welcome in the autumn and early winter garden than a bit of colour, and nothing is a more reliable source of that colour than Chrysanthemum!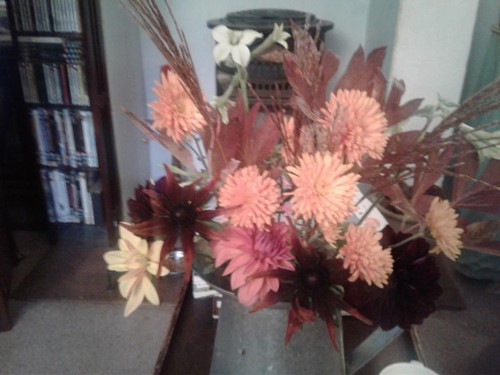 Arrangement of Chrysanthemum and Dahlia in author's home, October 2018
Forming a sturdy, upright plant, the garden Chrysanthemum comes with flowers in white, pink, and reds, as well as a whole range of yellows, golds and bronzes. The earliest varieties flower in late August and September, while other types choose their moments in October and November – some even hanging on into December.  They usually stand up very well to rain and wind. One of the best things about them is that even if you are just planting them in the garden now, in early July, the chances are that you will have some hint of colour this year, before they bulk up over the winter to give you a really great show in 2022!                                                                                   
I feed mine with a bit of fish, blood and bone in the Spring, when growth commences, and try to divide them every 3-5 years.  They also come very easily from softwood cuttings.Here are a few of my favourite varieties:
Chrysanthemum 'Vagabond Prince' - An original Amos Perry rubellum type. Semi-double flowers in rich cyclamen pink. Flowers in Oct and Nov (photo from the author's garden)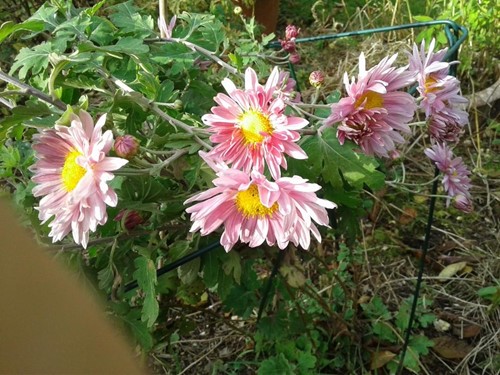 Chrysanthemum 'Perry's Peach' (AGM) Soft peach-pink, single flowers in Sept-Oct (photo from author's garden).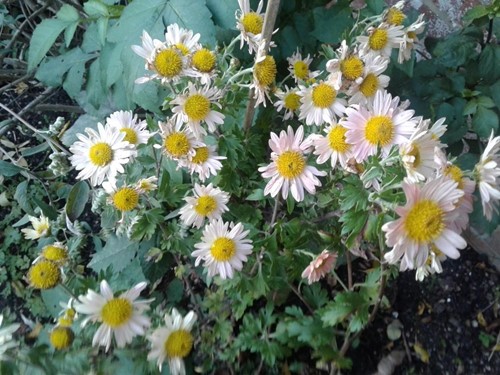 Chrysanthemum 'Uri' – Deep pink single flowers with a honeyed scent.  Flowers  in Oct-Nov  (photo from the author's garden)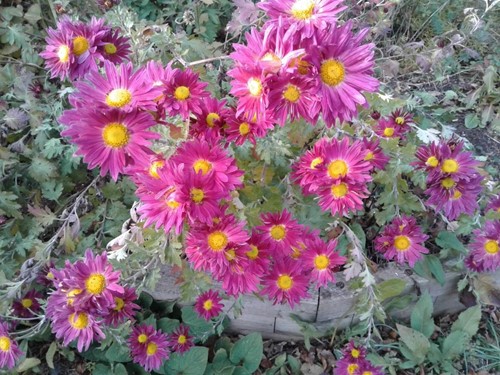 Chrysanthemum 'E.H. Wilson' – Highly-scented duplex white flowers in late Nov. Fabulous cut flower. Probably actually introduced by the planthunter E.H.Wilson. (photo in the author's garden).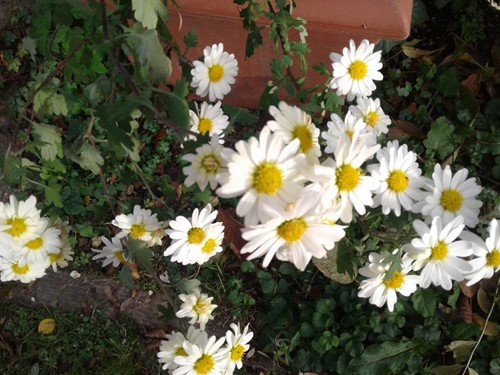 Chrysanthemum 'Carmine Blush' (AGM) - An "utterly weatherproof" introduction by Bob Brown.  Mid-pink flowers with a slight blue tinge, Oct-Nov. (photo from the author's garden).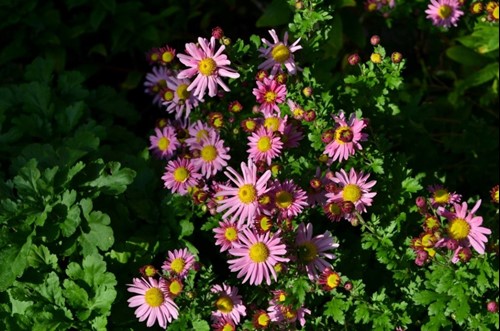 This article  describes my personal preferences, with factual information from National Collection holder, Judy Barker's informative HPS book "Hardy Garden Chrysanthemums"     
Louise and Julian Mitchell run Mrs. Mitchell's Kitchen and Garden, a small nursery based near Salisbury, specialising in cottage garden perennials, especially hardy geraniums, paeonies (including Itoh varieties), phlox, Michaelmas daisies. They also make yummy jams and chutneys!