My Life at Kew Gardens
Miranda Janatka, from the Temperate team at Kew Gardens, with a fascinating insight into the training and opportunities for young horticulturalists at one of the world's foremost Botanical Gardens. - 24 June 2018
I first came to Kew Gardens as a glasshouse trainee at the age of 26, knowing very little of what to expect. It was a year-long course that meant I spent half of the year in the Tropical Nursery, and the other half working in the Palm House. The courses have since changed slightly, but there are still similar one-year options now for those with a bit of experience, looking to get into horticulture. These include a specialist options in orchids, propagation and even one working in the vegetable garden. Surprising for me was how many young people work and study at Kew. It is an active hub of learning, buzzing with those fascinated with plants. While there is certainly a knowledgeable lot sharing their decades of experience, I hadn't expected to be surrounded by so many horticulturists in their 20s and 30s. We even have apprentices bouncing in every year as young as 17, and I remember this positively, when I hear the dismay about the future of young people and horticulture.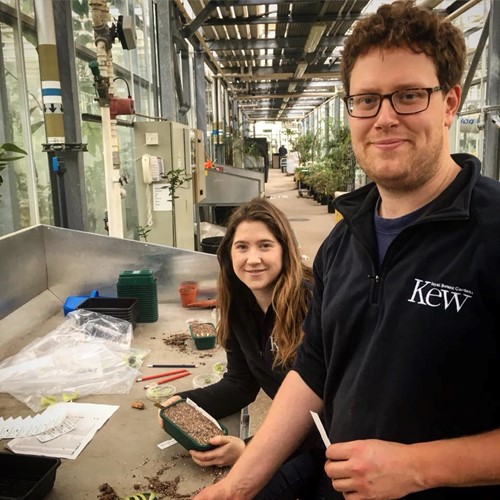 My colleague Tom Pickering and I in the Tropical Nursery
Within a couple of months, I was desperate to stay longer than a year. I applied for the Kew Diploma, regarded prestigiously as the most in-depth horticultural course in existence. It takes three years to complete and is made up of practical learning, scholarships abroad, nine months of lectures, exams and endless Latin plant name tests. It is intense and all-encompassing, but you are paid while you do it, becoming a member of the horticulture team, and if you really love plants, it is heaven.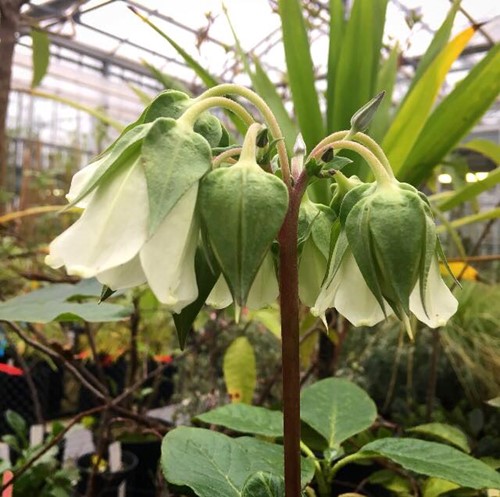 One of the plants that I grow at Kew, Trichodesma scottii endemic to Scocotra, Yemen, and known only from a few areas
Forward to last summer and I am engaged to marry Kew's best propagator and graduating the course. For me as a nurserywoman at heart, I was keen to get a job back in the Tropical Nursery where it had all begun. The Tropical Nursery is the largest area of glass at Kew, with such a huge and wide range of plants, possibly the most diverse plant collection on the planet. We describe it as the hidden gem of Kew, housing plants too precious to be out on display, and it is where we grow and propagate specimens for the public glasshouses and research. According the last count, we have 16,200 accessions of plants, with data about where they have been collected from and how rare or endangered they are. Included in the collection are orchids, aroids, water lilies and ferns. Precious and wild, some plants here are extinct in the wild.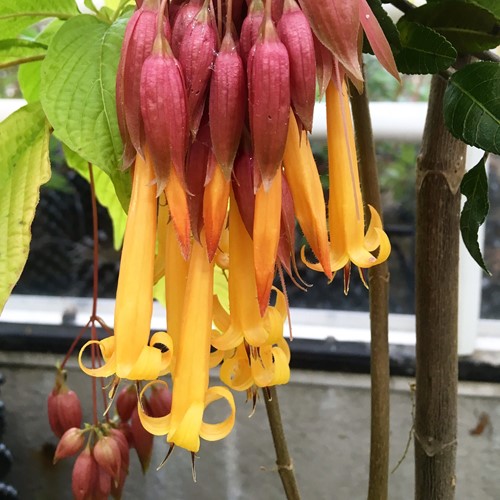 Csapodya splendens or 'The Golden Fuschia' native to Mexico, now extinct in the wild. Photographed in the Tropical Nursery, now in the Temperate House
The job I got was joining the Temperate Team, at an exciting time propagating the last of the plants for the now re-opened Temperate House. It was exhilarating being involved in the project and for my part, I was mostly taking cuttings of herbaceous plants and sowing annual seeds. We put together a video showing examples of the propagation work we did for the Temperate House project, I demonstrated how to create a new plant through air layering. The example I used was the beautiful Mexican Oak, with the largest acorns in the world, also known as Quercus insignis.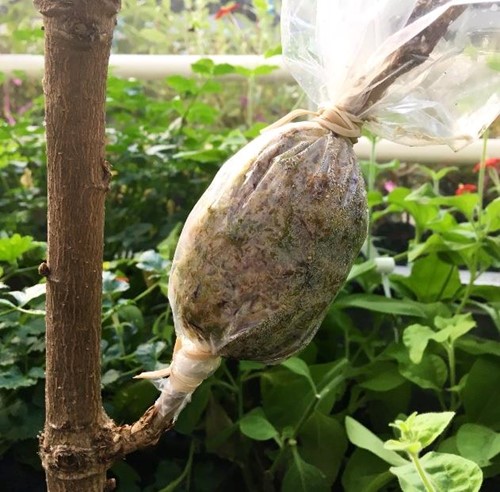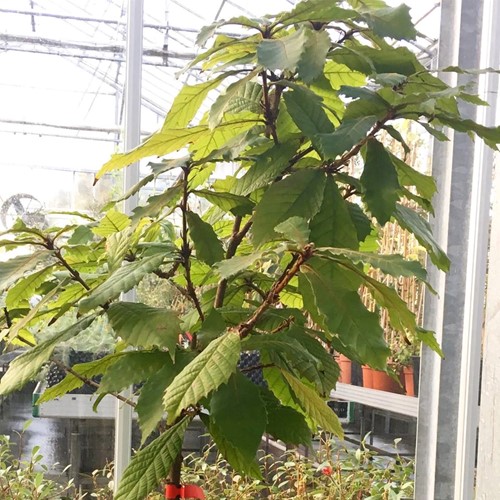 Quercus insignis and a detail of an air layer
As a team, our area includes carnivorous plants and over the past year, we have propagated pinguiculas through leaf cuttings and divided sarracenias. Each year we propagate the pygmy drosesas, through collecting and effectively sowing the clonal material they produce called gemmae. Working here is an endless journey of learning. It has been great fun curating the collections, rejuvenating plants and looking into getting new material in. This happens either through plant collecting trips carried out by members of staff at Kew, through contacting other botanic gardens or requesting seed from the Millennium Seed Bank. I am keen to improve the collection of South African Erica at Kew over the summer and my colleague wants to go back out to Madagascar again.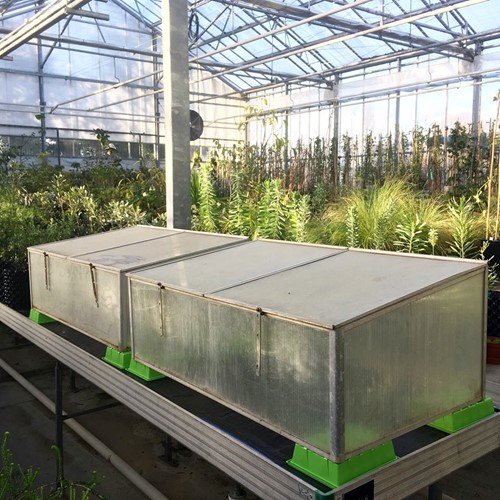 One of the temperate zones in the tropical nursery
For me the magic in horticulture is in propagation, and the resources, plants and incredibly knowledgeable staff here at Kew, make it a fantastic place to work. As part of the funding for the Temperate House, we were able to build a new Temperate Propagation Glasshouse with a sand bench, misting, movable lights and importantly, more space for plants. Once the Temperate House has settled in, we will start propagating for temporary displays in the Temperate House Octagons, which given we currently propagate plants for the Water Lily house, Palm House and Princess Of Wales Conservatory, means we are going to be increasingly busy again. But I can't think of anything more exciting than creating more plants, especially those threatened in the wild. Some we have information on and others we have to experiment with methods and temperatures to figure out. It is both a creative and scientific job here in the Tropical Nursery, and one that is changing constantly, just like the plants.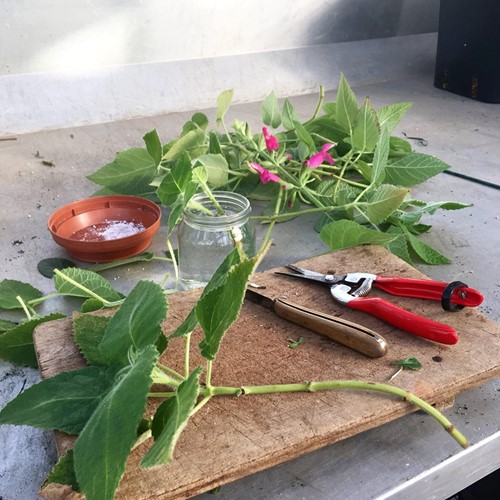 Taking cuttings of Salvia doriaina for display in the Temperate House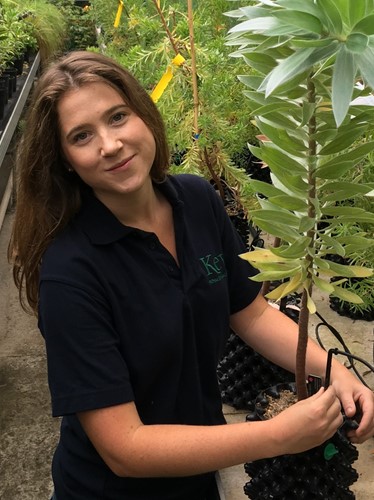 Miranda Janatka can be contacted via: 
Instagram – Kewplantswoman ; Twitter - @Miranda_J
Video of Miranda and her team demonstrating propagation at Kew https://www.youtube.com/watch?v=LJljCh7uInc
Miranda Janatka and her fiancé Andrew Luke (now head gardener at Wrest Park) write a 'Plant Of The Month' blog about propagation and plant history for the Hardy Plant Society http://www.hardy-plant.org.uk/blog/plant-month
The Royal Botanic Gardens, Kew, is a centre of internationally important botanical research and education. Set in a beautiful 326 acre garden in South West London, it is home to one of the world's most important and impressive plant collections. Kew Gardens is open throughout the year and have an Open Weekend to see behind the scenes of the Tropical Nursery on the 22nd and 23rd of September 2018. See the Kew website for more details www.kew.org
For more details on horticultural training at Kew https://www.kew.org/training-and-courses/horticultural-training